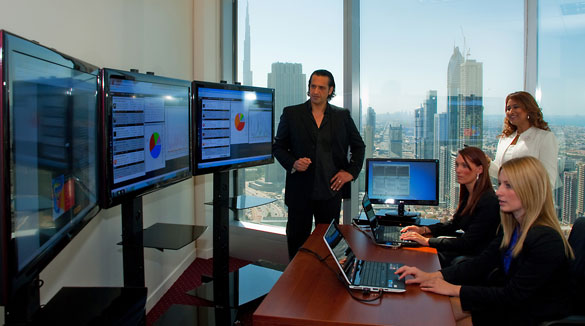 Postings by members of the public on blogs and websites show the emirate's image has turned around
Gulf News Report Published: 00:00 January 25, 2011
Dubai: Brand Dubai is enjoying a resurgence. And it is being heard loud and clear on the web, on the many blogs and social media networks that populate it.
Just as importantly, Dubai is trending positively on mainstream news sites.
Interestingly, the social media platforms, compared the mainstream news sites, have been leading the way in representing Dubai positively.
It sure represents a return from the cold for the brand, which went through a harrowing experience in the aftermath of the recession, the meltdown of its property sector and the subsequent issues that have to do with its accumulated debt.
"Over the last six to nine months the sentiment for Dubai has changed to an overall net positive," said a report by Digital Daya, a consultancy that tracks the new media.
"For the last six months of 2010, the ratio of positive to negative sentiment was running 5:2," the report stated.
That's quite a contrast to the 1:3 split between favourable and negative mentions Dubai received during December 2009, when concerns over the mounting debt were at its peak.
Recovery
Over 30 days between November 19 and December 19, 2009, analysis across all media channels recorded an "overwhelming negative sentiment and reaching its high on 11/27 (November 27) with 95 per cent of all
mentions being negative," according to the Digital Daya findings.
For its report titled Brand Dubai: A Snapshot of Dubai's image in 2010, Digital Daya based its findings after trawling through 725,000 mentions where Dubai was featured over a six- to nine-month period. During this period, Dubai merited an average of 386,000 mentions a month.
"Dubai has recovered much of its reputation — shopping, luxury hotels, air travel, championships, and trade logistics now resonate clearly again," the report added.
On the flip side, "some worrisome negative associations still remain that may hamper recovery to past standings," the report added.
"Global security challenges and lingering financial health issues remain a significant impact on Brand Dubai." The favourable impression that Dubai appears to be garnering in social media forums could be something that the authorities could look into, the Digital Daya report contended.
In particular, Digital Daya suggested that the authorities could move to:
Thwart "Dubai bashing" news sources.
Clarify misconceptions
Help to spread important communications and positioning from official sources; and
Effect desired changes in perception and opinion.
The authorities could even consider creating a Brand Dubai sentiment index to "clearly measure and manage Dubai's online reputation. And when required, respond to negative sentiments being perpetuated on the web "so as to change unwanted perceptions about Dubai", Digital Daya suggested.
"The conversations and user-generated content found in millions of social networking sites offer tremendous insights into what people are thinking and tremendous opportunities to influence that thinking," said Omar Hijazi, managing partner at Digital Daya.
"There is a stark realisation growing amongst corporate and public sector leaders that a new generational shift is required to successfully reach out to people and manage public opinion in today's increasingly digital society."
What web users say
The findings that make up the Brand Dubai report was derived from Digital Daya's social media command centre in the UAE.
The in-depth study analysed nearly 725,000 postings on the internet referencing Dubai from May to December.
The command centre is specifically designed as a social media listening grid to monitor web-based social media locally and otherwise. It collects, analyses and manages reputation information for clients.
http://gulfnews.com/business/retail/brand-dubai-shining-on-social-networks-1.751486 1/25/2011