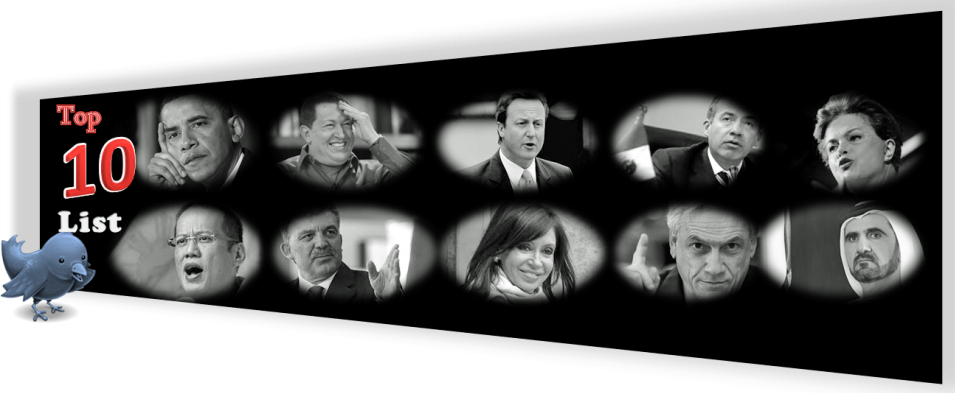 Obama and Chávez: The World's Most Influential Heads of State on the Net
The Digital Policy Council's latest research shows a doubling of the number of heads of state joining Twitter in the hope of better engaging their citizenry. President Obama of the United States and President Hugo Chavez of Venezuela are the two most influential heads of state according to the 2011 rankings. A total of 69 world leaders out of 164 countries have Twitter accounts set up in their personal name or through an official government office. The new figures represent a startling 100% increase over 2010.
Washington, D.C. August 19, 2011 – The Digital Policy Council (DPC), an international, non-partisan "think tank" on 21st Century Governance, has released its 2011 ranking report on the use of social media by heads of state.
The DPC is the research and public advocacy arm of Digital Daya ('digital influence'), a next generation strategic consultancy that empowers government and corporate leaders to leverage the new media of the Internet to build influence and shape public opinion.
The Digital Policy Council's most up-to-date research recorded a strong movement towards social media by world leaders as they began aggressively pursuing new types of direct communication channels with their citizens and the international community.
Analyses as of August 2011 reveal that 42%, or two out of five heads of state, have a presence the social media site Twitter. A total of 69 world leaders out of 164 countries have Twitter accounts set up in their personal name or through an official government office.  The new figures represent a startling 100% increase in the number of heads of state and national governments employing Twitter from the fourth quarter of 2010 when only 33 countries were active.
Joining The Revolutionary Wave
In 2009, President Obama pushed forward an open government directive to harness Internet technology as a means to create a better system of transparency and public participation in policy making.  Over the course of the last year, the governments of the U.K., Australia, and Japan followed suit with similar initiatives.
However, in 2011, internet political activism ignited far more rapidly than the open government movement. No more so than in the Middle East and North Africa having been swept up by the pro-democracy uprisings, now known as the Arab Spring. Demonstrators openly acknowledged the role of digital media as a fundamental infrastructure for their work and the most potent factor in mobilizing support. For the period of the Arab Spring, statistics collected by Digital Daya's Social Intelligence Command Center in Dubai revealed over 6 million people flocking to dissident social media sites eclipsing any activity on the accounts set up by government authorities.
"As a balance to the intensifying political activism online, governments are escalating investments in digital platforms to better engage with their citizens," said Omar Hijazi, Managing Partner at Digital Daya. "To survive 21st Century politics, authorities will be far better off to invest in building a powerful Internet following rather than a futile off-switch."
Encouragingly enough, the report confirms many heads of state are turning more and more to social media to put a personal "face" on government and to further advance their political views and agendas.
Top 10 Rankings ─ The Latin Invasion
President Obama holds on to the top spot with a vast 9 million followers adding a whopping 5 million people in 2011. Having been criticized that his Twitter account was solely being managed by his 2012 presidential campaign staff, the President started tweeting from the @BarackObama account personally with signed tweets.  To pressure an end to the debt-ceiling standoff in July 2011, Obama tweeted "The time for putting party first is over. If you want to see a bipartisan #compromise, let Congress know. Call. Email. Tweet. —BO."
President Hugo Chávez of Venezuela grew his following by over a million people to grab the #2 spot. Political analysts referred to his Twitter account as having "tremendous propaganda value" and fundamental as part of his "charisma machine." Chávez currently maintains the highest online influence score of any world leader matched only by President Obama.
Chávez is joined by four other Latin American heads of state in the world's highest rankings, notably President Felipe Calderón of Mexico, the newly elected president of Brazil, Dilma Rouseff, Argentinean president Cristina Fernández, and Chilean president Sebastián Piñera. All four of these Latin American leaders have achieved a tremendous growth in followers in just one year. In fact, Latin American leaders now make up 50% of the Top 10.
U.K. Prime Minister David Cameron, the "Reluctant King" of social media in Europe, ranks the highest among its leaders with the third spot in the Top 10.  He grudgingly inherited the 10 Downing Street Twitter account from his predecessor and then social media advocate Gordon Brown. Despite brushing aside Twitter last year for being too "instant," Cameron has newly recruited an Executive Director of Digital, responsible for the overall user experience across all digital channels, and a key component in a strategic plan to boost the Government's online presence.
New to the Top 10 is the president of the Philippines Benigno Aquino III now the highest ranking Asian leader and claiming the 6th spot. Moving up three notches to the 7th spot is President Abdullah Gül of Turkey, a proponent of freedom of the Internet.
While the Arab Spring has caused a retrenchment of open government across the Middle East, a notable exception is His Highness Sheikh Mohammed, Prime Minister of the UAE and Ruler of Dubai, who has actually increased his social communications.  He tweets more often and recently launched a new iPhone app to allow the people of the UAE to have easy access to his news channel, Facebook page and Twitter account all in one application with a feature to switch between Arabic and English. His Highness is currently ranked 10th overall providing a strong example of leadership for the Middle East in engaging his citizenry with open communication.
A Shift in the Balance of Power?
Civil society now have new means through social media and mobile communication platforms to organize very effective civil dissent whether on the streets of Cairo or London. The uprisings in 2011 have made it clear that the political stability of nations along with the political longevity of its leaders are inextricably tied to engagement of civil society.
The Digital Policy Council reiterates its advisory view that the new media is a disruptive technology and governments will need to adapt to the changed conditions. In fact, these social networks can be influenced to consensus, just as powerfully as they can incite dissent.  Open communication from heads of state through social media channels such as Twitter is only a single dimension of a much broader transformation. The empowerment of public service officials with new policies and technology platforms can assure favorable citizen engagement.
For more information download the report at www.digitaldaya.com/world_leaders_on_twitter_2011
Digital Daya welcomes all interested parties to track the latest developments in Government 2.0 on LinkedIn @ http://linkd.in/nextgen-gov
About The Digital Policy Council™
The Digital Policy Council (DPC) is an international, non-partisan 'think tank' that promotes good governance and policy-making.  The research and policy arm of the management consultancy firm Digital Daya™, DPC's mission is the advancement of open discourse on issues of inclusive governance through the use of the Internet and Web 2.0.
Contact:
The Digital Policy Council
http://www.digitaldaya.com/
U.S. +1-202-379-4787
UAE +971-4-313-2086
Malaysia +60-3-2168-4201