Middle East's first center for social intelligence tracks an upbeat resurgence in public sentiment for Dubai
DUBAI, United Arab Emirates, Jan. 27, 2011 /PRNewswire-USNewswire/ — Digital Daya ('digital influence'), a strategic consultancy that empowers world leaders to leverage the new media of the Internet, has released a new report "Brand Dubai: A Snapshot of Dubai's Image on the Social Web" that explores the state of Dubai's online reputation since the financial crisis in November 2009.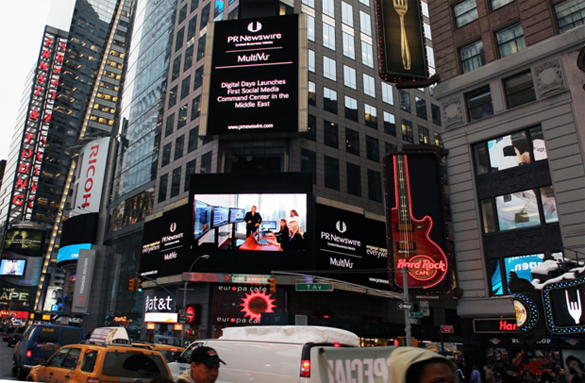 Times Square, New York (January 27, 2010): Digital Daya Launches First Social Media Command Center in the Middle East (PRNewsFoto/Digital Daya)
According to Digital Daya's most up-to-date research, during the peak of the financial crisis almost 95% of all media postings online were negative reflecting prevailing fear and doubt about Dubai's debt burdens and its ability to recover. This persisted through the beginning of 2010 where the ratio of positive to negative sentiment was running 1:3, however over the last 6 month the ratio has nearly flipped to 5:2 signifying a net positive view of Dubai. This reflects a strong comeback for Dubai's prevailing reputation in the global community and a refocus on its traditional image as an entertainment and logistics hub.
On an interesting note, the volume of postings and favorable views about Dubai on the "social web" far exceeds that of mainstream news media indicative of a strong supportive following by the general public that could be earnestly leveraged.
"The conversations found in millions of social networking sites offer tremendous insights into what people are thinking and tremendous opportunities to influence that thinking," said Omar Hijazi, Managing Partner at Digital Daya. " There is a stark realization growing amongst public sector leaders that a new generational shift is required to successfully reach out to people and ensure a favorable reputation in today's increasingly digital society."
The Advent of "Social Intelligence"
This ascendance of social media brings about several questions, especially for government. In an age where news travels, is shared, re-tweeted, posted on Facebook quicker than most public officials can react — keeping a pulse on public sentiment is now more pressing than even.
In the region today, much sovereign investment is being directed towards creating world-class metropolitan destinations to attract the global investment and business community; as competition heats up, governments have to ponder how best to ensure a favorable reputation and set their cities apart.
Governments are equally challenged by the rise of online activism over social networking web sites like Twitter and Facebook used by opposition movements to organize protests and escalate dissent such as that in Tunisia which toppled the government and sent reverberations across the Arab world.
However you look at it, proactively or reactively, public authorities are going to require new competencies to gather data and insights on millions of online conversations happening on the Internet – new capabilities to accumulate social intelligence to understand and ultimately influence public opinion.
Middle East's First Social Intelligence Command Center
The Brand Dubai report was produced through Digital Daya's social media command center sited in the UAE by analyzing nearly 3/4 million postings on the Internet.  The command center was specifically designed as a social media listening grid acting as a fully functional real-time system to monitor Internet-based social media locally and around the globe.  The center collects, analyzes and manages reputation information concerning sovereign and corporate brands for their clients in the public and private sectors around the region.
Digital Daya's platform brings into play advanced social media technologies that provide governments and corporates the means to effectively track and manage their reputation online. The social media command center will monitor millions of conversations stirring on social networks, blogs, forums, Twitter, wiki, news and video sites — this social intelligence can then used to tune policy making,  influence opinions and better foretell public sentiment.
For more information download the report at http://digitaldaya.com/blog/brand-dubai-is-bouncing-back/.
About Digital Daya™
Digital Daya is an international strategic consultancy helping world leader leverage the power of digital platforms to influence and engage the World in the 21st Century. The Digital Policy Council (DPC), the research and policy arm of the Digital Daya, is an international, non-partisan 'think tank' that promotes good governance and policy-making.