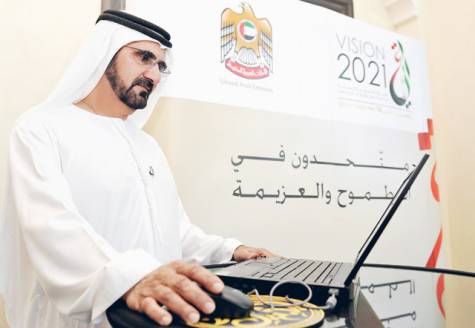 Source: Gulf News Report – Published October 17, 2010. Digital Policy Council lauds His Highness Shaikh Mohammad Bin Rashid Al Maktoum, Vice President and Prime Minister of the UAE and Ruler of Dubai, for initiative to engage citizens and residents with open, direct communication.
Dubai: His Highness Shaikh Mohammad Bin Rashid Al Maktoum, Vice President and Prime Minister of the UAE and Ruler of Dubai, has been ranked sixth on the "Heads of State Using Social Media" list compiled by the Washington-based Digital Policy Council, which monitors the usage of micro-blogging sites such as Twitter.
Shaikh Mohammad is listed in the Top Ten together with other top political personalities like US President Barack Obama, UK Prime Minister David Cameron, Queen Rania of Jordan, Venezuelan President Hugo Chavez, Japan's Prime Minister Yukio Hatoyama and Russian President Dmitry Medvedev.
Shaikh Mohammad "continues to engage his citizens and residents with open direct communication," the council said. "In June this year, he held the first e-session with the public on the Prime Minister's official website. The frank dialogue covered many issues, most prominent the fiscal health of Dubai."
As of Saturday, Shaikh Mohammad's Twitter page showed 352,389 followers of his tweets. Tweeting under the name HHShkMohd, he has updated "followers" on his life in 140-character messages.
The Council said it has recorded a strong movement towards open government as more leaders are aggressively pursuing social media channels as a new type of direct communication with their citizens and the global community.
Analysis
Analysis as of this month reveals that 20 per cent, or one out of five heads of state, are at present on the social media site Twitter. A total of 33 world leaders out of 163 countries have accounts on Twitter set up in their personal name or through an official government office. This represents a 50 per cent increase in the number of countries from the last quarter of 2009.
"It is apparent that more and more world leaders are turning to social media to remodel how governments in the 21st century govern and communicate," the council noted.
As it stands today, 20 per cent or one out of five heads of state are now on the social media site Twitter.
The research reveals that a culture of open political discourse is spreading across the globe as more world leaders seek direct communication with their citizenry.
The idea of governments to openly engage their citizens and the global community directly was brought to the forefront on December 8, 2009, when the White House issued an open government directive.
President Obama signed into effect a commitment of his administration to create an unprecedented level of openness in government. The memorandum outlined three key principles that government must be transparent, participatory, and collaborative.
It is interesting to note that the council's analyses shows that 95 per cent of the countries on the list are considered politically stable, reconfirming that leaders who are confident in their leadership role and assured of their political legitimacy are most comfortable with social media regardless of the form of government whether they serve in democracies, autocracies or monarchies.
The political leadership of most fragile nations, those with a high degree of political instability, continue to view social media as a threat and adoption remains low.